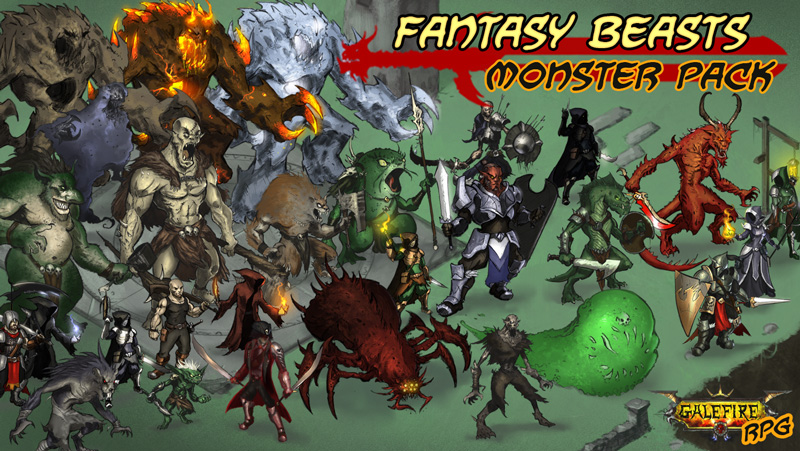 Fantasy Beasts, Monster Pack
A downloadable asset pack
Twenty-five Fantasy Beasts for your heroes to battle in your isometric or sideview game!

Set includes: Assassin, cultist, dark reaper, dark elf, frogman, ghost, giant spider, gnoll, goblin, guard, hobgoblin, golem/elemental (ice, fire, stone), imp, lizard man, ogre, ruffian, scout, skeleton, slime, swashbuckler, troll, wererat, and zombie!
Also includes 3 bonus hero tokens: Warrior, Mage and Ranger; or whatever you want to use them as!
All ready to deploy in .png format!
Check out the Hero's and an Imp for free!

Compatible with:

Isometric Dungeon Designer - https://galefirerpg.itch.io/isometric-dungeon-designer

License
Commercial Use
No time or project use limitation
Can be altered and modified for use in project.
No redistribution of package, its contents, altered or derived versions.
Purchase
In order to download this asset pack you must purchase it at or above the minimum price of $14.99 USD. You will get access to the following files:
GalefireRPG-FantasyFoes1.zip
2 MB
GalefireRPG_fantasyfoes_fullsize.zip
14 MB
Download demo
Comments
Log in with itch.io to leave a comment.
I will be downloading this at a later date for purposes. This is super cool. Good work!
Heya! LOVE these! Just to confirm... when we purchase the pack from this site, can we use it for commercial purposes as well? All other sites your packs are on are for "personal" use only...

Thanks! :)
Yup, I'd just ask for a credit is all. The other sites have them slightly cheaper than they are here.
Thanks!
Nice Pack! I love the art, but would like a slightly bigger resolution of the files. I'm thinking of using it as battler art for an RPG Maker game!
:)
you know, that's a good point. I should make a high resolution set available, I will do that soon!
Yay! The high res version could also be used for D&D Adventure pdfs and the like. Looking forward to it.
Hey, the full size versions are available!
If we purchase these, are we able to mix and match parts with the other monsters/our own drawings for our game? Examples would be to cut and add wings, horns, tails, etc from one monster to another monster, or to a character we have made in order to increase monster diversity in our games? (With asset credits, for use in a game/visual novel, with the new monster/character art not for redistribution or sale, only being within our game). You say in the terms we can modify and alter these, I just wanted to double check first. Thanks for the great monster assets! :)
Hello! Are they animated? Thank you!